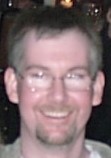 Josh Tolbert's Homepage
Hi! Welcome to my little hole in the wall on the web. My name is Josh Tolbert. I'm thirty-four years old, I live in Urbana, Illinois and currently work for a local U. S. Department of Agriculture group as an Information Technology Specialist.
This page is just a brief overview and more information is available below. This page is constantly under construction. Do not shake. Contents under pressure.
Interests
I like a lot of different things. I'll give just about anything a try once or twice before I decide I don't like it. The interests that take up most of my time lately are:
Contact info
The easiest way to reach me is via e-mail to hemi@puresimplicity.net. The quickest way to reach me is via ICQ (50489581) or YIM (josh_tolbert_1977). My PGP key is available.
Where did the nick "HEMI" come from?
I'm a car numbers freak, particularly Mopar (Dodge, Chrysler, Plymouth, Jeep, Eagle, Fargo, DeSoto, etc.) vehicles. The infamous Hemi was (and still is, in a lot of ways) just about the wildest production engine ever put in a classic American car, so...Why not use it for a nickname? :)
So why do I use "Hemi" in all capital letters? Look at any original 426 Hemi air cleaner.
---
Comments? Suggestions? Hate mail? Send them to hemi@puresimplicity.net.