My Boss ME-80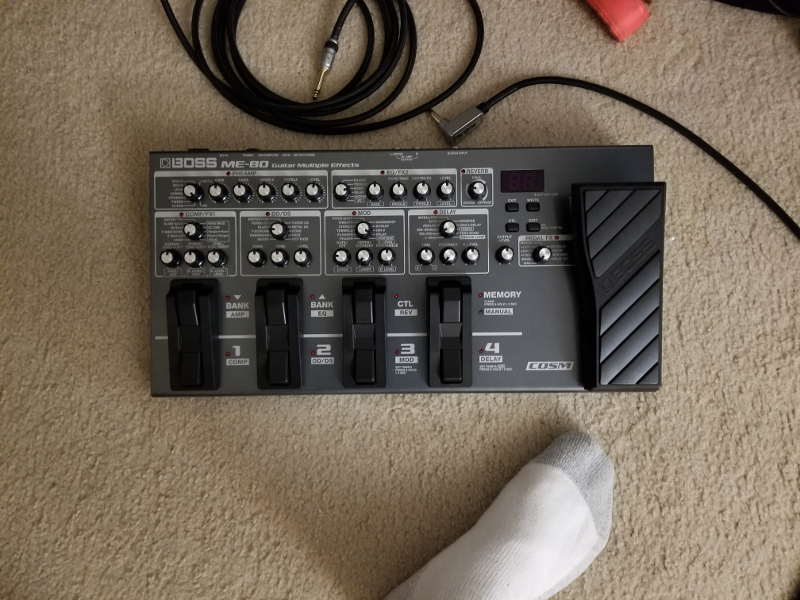 Introduction
I bought this multieffects unit in September of 2019. I only regret that I didn't realize it was larger than the ME-70. Now it doesn't fit in my Novation 25 key backpack.
My intent was to "downsize" because the amp models on this unit are convincing enough that I can sell my other equipment. So I sort of downsized by up-sizing my floor unit.
It Worked Right Out Of The Box...

Right out of the box, I found it very easy to use. And Boss mailed it to me with a printed copy of the owner's manual, so nearly all my questions were answered immediately.
I dialed in my typical patches like I did previously on my ME-70, and they all worked and sounded great (more on that later).
I played with all the features like the Tera Echo and Freeze functions, and the acoustic simulator, and using the manual, built some good preliminary patches.
As usual, the feel was impeccable. Knobs move smoothly. The expression pedal has a good amount of throw to it. Also, I absolutely love what Boss did to the power button: now an actual button instead of the ME-70's "plug it in to turn it on" concept.
If anything, this baby has too many options. For example, I can run three simultaneous delays plus a reverb. Or I can run the MOD section in chorus, EFX in chorus, and DELAY in chorus + delay. The tonal possibilities are just overwhelming. I have like five different ways to make a patch turn into a solo with the CTRL pedal: toggling SOLO on the COMP/FX1 section, toggling EQ/FX2's EQ as a boost, toggling OD/DS in BOOST, increasing the LEVEL on COMP/FX1 compressor, increasing the level on any OD/DS being used, increasing the LEVEL of the EQ/FX2 EQ, etc. It's just nuts. Or I could have the CTRL pedal toggle more than one of these on/off or change the level on them!
This means you can go nuts with processing to the point of making your guitar sound like a synthesizer pad, for example. (Thanks, Michael Hodge!) It's just crazy.
Having the ability to switch to an acoustic simulator in church while playing electric is almost priceless. Sure, it's not a perfect simulation, or so you'd think, until you add some Tera Echo, some overtone, etc....
Until It Didn't...
Well, setting everything to 50% on the knobs definitely didnít work in church. I found my own patches to be too loud compared to factory patches and Tone Central patches.
So I figured out that the ME-80, unlike the ME-70 and ME-50 before it, is a bit sensitive to amp level settings. I found that, for at least this knob, I must set it to about 40 if I want it not to be overbearing. I had to basically set the sound level of my patches by ear instead of assuming that 50 on a knob results in the signal not being amplified, which is sort of ironic.
Once I figured that out, using the ME-80 became so much more fun. The many awesome tones on the Tone Central were useful, but I also could go back and edit them (like turning off single -> humbucker because my guitars have humbuckers) and improve them (like making CTRL add boost or turn off phaser, etc, depending on the patch). So I now have a set of tones I like.
One of the very few complaints I have is that I canít make the CTRL change the amp simulation from (for example) clean to combo, or combo to tweed, to simulate owning two different amps. So I canít completely emulate Nigel Hendroff of Hillsong (he has, last I checked, a VOX and a Matchless). If Boss could add this feature, say in an update to the ME-80 firmware, that would be fantastic.

Experience With Windows
I really wish more software manufacturers included a Linux version with their product. But oh well.
At first, Windows didn't install a driver for it (despite Boss's website's instructions). So I couldn't use Boss Tone Studio, and I had to send Boss an email using my Backstage account.
Within 24 hours, Boss replied with a link to the drivers, explaining that it was a Windows problem. Given that I don't like Microsoft that much, I understand and I don't fault Boss, given all the posts I saw on forums.
Today I loaded up Boss Tone Studio and I enjoyed editing my default church patches (I'll explain these later in this article). I was blown away by the number of excellent-sounding patches available. It's just ridiculously awesome! I could almost literally load up any patch to any song I want to play and instantly sound correct. Now my problem is that there are
too many
options! I don't have enough memory space for all the good sounding patches!
To top it off, I found Michael Hodge's patches. I was curious as to who he was, so I Googled his name and discovered he's one of the guitarists at Lakewood church in Houston. Perfect! I put four of his patches in my second user bank. I am thankful that someone in the worship arts is listed in the Tone Central.
There are so many acoustic and acoustic-to-electric patches I had a hard time picking only four for the 9th user bank.
I had to build a spreadsheet to print and keep with my music binder at church so I can remember what patch is what.
The ability to save Live Sets and/or run backups is just amazing!
I even tolerated the patch editor. I usually hate twisting virtual knobs with my mouse. This interface has a mode where you edit values, not "turn" knobs with your mouse. I love it! And the editor is easier to use to set the CTRL pedal than the physical ME-80 interface.
No Recordings Necessary
With my System-1, I
recorded
all the factory Roland patches for demonstration purposes. I didn't have to do this with my ME-80. The Tone Studio has demo recordings of every patch. So that saves me a lot of time.
However, I have recorded a few of the sounds I have gotten in church just so you know how they sound. Here are some examples:
My own clean/acoustic patch, but set to acoustic. I'm using my ESP EC-1000QM, and I have the selector in the middle, the neck volume on 7 and the bridge on 10 (Seymour Duncan JB pickup) to add brightness. I'm palm muting intentionally.

The Octave Lines patch from the Michael Hodge Collection right from the Boss Tone Central, on the song Our God Saves. Did you know he's one of the lead guitarists at Elevation?
The Ambient Pad Swells patch from Michael Hodge, on the song Jesus Only Jesus. The only change I made is I disabled the Freeze on the expression pedal from being enabled by default, that way I don't have volume/expression pedal up/down problems when changing between patches. This patch is so awesome, though, as it helps me switch faster for ambient pieces rather than having to move to pads on my System-1. But it can't replace a great synthesizer like the System-1!

My Church Tones
Coming soon....
Is This the New Digital Age?
At first, I was sort of torn. Am I shortchanging myself by not learning how to dial in patches that sound like certain songs? Am I saving myself time to use practicing rather than fooling with patches? Only time will tell. But given how insanely busy I am, I'm thinking this is a blessing so that I can focus on actually practicing my guitar rather than dialing in patches, at least for now.