Introduction

The System-8 (software version 1.3 and up) comes with three Plug-Outs. I figured that it would be best that I reviewed these (the VSTs and the Plug-Outs on the System-8 itself) here. Note that the best place, in my opinion, to get the VST/Librarians below is via the Roland Cloud Manager application, which is free.
Each of the Plug-Outs is reviewed, below.
This is where I will review the System-8's various Plug-Outs: the Jupiter-8, the Juno-106, and the JX-3P. For the other Plug-Outs that work with the System-1, please see
that page
. For my review of the System-8 itself, see
this page
.
If you appreciate my articles, please
donate
.
Mathematically, here's how their patches line up. Please see the end of this article where I detail what specific church-related voices (like timpani and saxophone, etc) exist on each system. You can quickly see that, with the System-8, you have the perfect "desert island" synthesizer. I doubt you'd ever run into a situation where you can't find a patch that works for any sound you hear on worship music (think MultiTracks).
Update: 5/18/2021, I became aware of Roland releasing the original 128 Juno-106 patches, and the new Juno-60 Plug-Out!
| | | | | | | | | | | | | | | |
| --- | --- | --- | --- | --- | --- | --- | --- | --- | --- | --- | --- | --- | --- | --- |
| SYNTH | TOTAL | BASS | BELLS | BRASS | DRUMS | EFFECTS | KEYS | LEADS | 80s* | PADS | PLUCKS | SEQUENCED | SYNTHS | VC* |
| SYSTEM-8 | 708 | 133 | 8 | 10 | 15 | 49 | 51 | 117 | 0 | 99 | 34 | 71 | 78 | 1 |
| JUPITER-8 | 363 | 59 | 3 | 8 | 12 | 23 | 19 | 58 | 24 | 64 | 26 | 32 | 35 | 0 |
| JUNO-106 | 671 | 121 | 12 | 16 | 26 | 52 | 31 | 84 | 24 | 79 | 55 | 54 | 115 | 0 |
| JX-3P | 160 | 17 | | 7 | 0 | 3 | 15 | 24 | 32 | 26 | 10 | 9 | 14 | 0 |
| JUNO-60 | 184 | 33 | 3 | 5 | 0 | 3 | 8 | 15 | 32 | 34 | 14 | 7 | 30 | |
KEY:
80s:
any nostalgia type patch that is marked "1981" or "1984" (Jupiter-8 and Juno-106) or without prefix but an original patch (JX-3P). This does not count the Juno-106's original 128 (which were released with "standard" Roland two-letter prefixes).
VC:
vocoder.
General Notes
Before I begin, some general notes on using the System-8 in church. With the release of the Synthwave patches for the System-8 Plug-Outs, I wanted to explain how I go about selecting and programming patches. Hopefully you'll find this helpful. If you're here just for my reviews of the VSTs, please see below.
First, I "Send All" the patches into the Plug-Outs and play them through my System-8 and Roland KC-80 amp. Before I bought the System-8, I had listened to them all through my laptop or headphones connected to my laptop, but that was a mistake because laptop speakers aren't the most high-fidelity option.
Second, I have spreadsheets of all the Plug-Outs and their patches, and one column is my decision on whether they would work in church. The categories are "yes", "maybe", and "no." This way I prioritize how useful they would be in church. I also have a notes section where I write the name of any worship song I know which I use the specific patch(es) for. That way I know of real songs that I might need the patch for.
So when I "rack and stack" patches for church, I select them based on category and usefulness for church. I mainly target piano, string, pad, bell, and other natural instrument sounds. As well, the church I attend influences what I select: at my last church, I included bass patches in case the bass player was absent. At my current church, we use Multitracks, so I don't need to include bass patches if the bass player is absent because we can enable that specific track in Ableton and keep pressing on.
I rarely "FX" patches because very few songs we perform require them. I also do not include drum patches: we have a drummer, we have Multitracks, and playing drums on my synths would be counterproductive. The exception being Timpani patches, but I usually include those on my System-1, not my System-8.
It's not that these patches are bad, it's just that church worship music is a different environment.
I tend to include a lot of leads and patches because that's the role I end up being used in. Also, I'm noticing more EDM, Trance, Techno, and Synthwave sounds in contemporary Christian Music, so the movement within CCM is actually moving in favor of the System-8 and its Plug-Outs.
As for church and sequenced patches, this is sort of a difficulty. Most churches don't have a MIDI bus installed in the floorboards. At my last church, I connected my synths to the Roland vDrums we had, and if the drummer sets the tempo metronome, the System-8 will follow it. The problem is no one perfectly follows the drums. At my current church, we have Ableton click tracks running, but so far I have no MIDI output from that laptop. I may try to include MIDI output in the future, if the Apple laptop the church owns has a free USB or MIDI port for me to connect to. So, for now, I do not include sequenced patches, but I will keep experimenting with my options.
If I was going out to play live music, like busking, I would pick entirely different options. I've busked before, and the System-8 is great for this. But I would need to consolidate my ideas into songs with titles so that I can then select a set of patches specifically for busking. The System-8 is great for doing this if you remember to set up the Plug-Out and/or the entire synthesizer for busking, church, or whatever use, then perform a backup. In less than a minute, you can completely reconfigure your System-8 for church, busking, or whatever musical environment you find yourself in.
System-8
I'm very impressed by its capabilities. If there was a flagship of the Aira series, this would definitely be it. All the factory patches sound great.
A few things. First, given that this synthesizer can split the keyboard in two for two patches at a time, it's easy to see why Roland included so many bass patches. To compliment these, there are easily enough pads, synths, and leads to go around for either full keyboard or split keyboard use.
Church musicians will probably be interested in the 10 piano, 3 organ, 81 pads, and 8 strings patches, an excellent assortment. However, there are 43 very nice KY (keys) category patches to use, such as the RANDOM SPARKS preset, my favorite. At my current church, I use a lot more of the cutting edge sounds.
The System-8 now has 62 pad patches, which is an incredible selection! And then, of course, the other System-8 Plug-Outs (below) have plenty of their own. I have to remind myself to load up my System-8 with a broad selection of patches, not just all the pads, because I love pads.
Please consider seeing my
System-8 page
.
Juno-106
Some have called it the queen of the synthesizers. To me, because I'm a newbie to synthesizers, the Juno-106 seems to be a polyphonic SH-101 with a larger keyboard. I have previously extolled the SH-101 for its beautifully simple "one oscillator" sound (but with three mixable waveforms). Technically, according to Wikipedia, the original Juno-106 has six digitally-controlled oscillators. I say the Juno-106 seems like a SH-101 because some of its controls seem similar.
I have to say the first time I learned about the Juno was while using the System-1's patch "SY LIKE A JUNO". So yeah, that's how much of a newbie I am. I love how dramatic and large this patch sounded, so I was excited to start playing with the Juno-106 VST.
The sound of the Juno-106 Plug-Out on my System-8 is absolutely fantastic! It excels at pads and other gentle sounds like harps and bells. In fact, my favorite pad to use in church is the Juno-106 Plug-Out PD SOFT PAD preset. There are other great pads, but at least for the Juno-106 Plug-Out, this one is my favorite.
Mathematically, here's how the patches on the Juno-106 work out. You get 64 patches from the factory, with 24 of them bearing the "1984" prefix, so I'm assuming these are the original factory patches. Given that I loved this on the Pro Mars, yes, I appreciate having the original patches, or their copy. On my own church set, I split the factory patches into useful, maybe useful, and not useful in church. I put these in order, but I placed the 1984 patches first in the first two categories. Note that I don't include the Clav or Clav-like patches on the Juno-106 or any other: despite my love for nostalgia, I have never needed, or liked, the sound of the Clav patches.
Because I love pads, the fact that it has 24 pads makes me very happy. Unless you count "synth pad" and the 4 strings patches that are part of the original set, in which case there are 17. I can play this thing for hours!
That being said, I didn't find a super bombastic patch included with the Juno-106 Plug-Out, which is sort of weird because the System-1 came with "SY LIKE A JUNO" that is beautifully bombastic. (I ended up exporting that System-1 patch to my System-8.) This isn't a complaint, just something unexpected.
For church use, I expect any synthesizer or keyboard to have at least one good piano patch. The Juno-106 doesn't come with any patches from Roland that include the word "Piano." Good thing there are piano patches included with all the other Plug-Outs, and with the System-8. But the Juno-106 is quite useful in church, nonetheless, as there are plenty of pads, strings, brass, choirs, organs, etc.
The 169 patches above are composed of 64 factory, 64 Synthwave, and 41 Techno patches. Note that even patches from the Techno set, which one might not immediately think would work well in church, have proven useful to me. My advice: always listen to all the patches and determine if you think you can use them in church: don't just go by what set or name they have. For example, the Sizzle effect sounds like bacon cooking. Maybe I can get people to leave church sooner if I use this to trigger their hunger.
The Juno-106 is a very nice sounding, useful Plug-Out for church use.
Jupiter-8
Yet another iconic synthesizer from Roland in a Plug-Out. Wikipedia says this synthesizer originally came with 16 oscillators. Again, I've never played an original, because I'm new to synthesizers. However, I immediately fell in love with its sound. In my opinion, the value of an old synthesizer is if it still appeals to new listeners. The Jupiter-8 and Juno-106 still have what it takes.
The Jupiter-8 VST has 64 factory, 64 Synthwave, and 41 Techno patches for a total of 169. The original factory patches are labeled "1981" on this Plug-Out.
Some websites claim the Jupiter-8 was originally intended for strings. In use for church, I tend to rely on the "1981 MELLOW STRINGS" patch a lot, which is my favorite string patch on this Plug-Out. It also has some excellent pads, as well as good instrument patches. From what I read, Roland has always been interested in synthesizing realistic sounding instruments with synthesizers. To my ears, using a synthesizer for real instrument sounds can result in a "cheesy" or "80s" kind of sound, so I don't do this very often. For example, I'd rather fumble with a real cello than use a cello patch on my System-8, even though I've synthesized one and used one in church before. But since I can't own one of every instrument, sometimes these substitutions need to be done. Note to self: I need to witness to more classical musicians.
This Plug-Out sounds fantastic and has many patches that are great for church use! The pads sound great in church. It also has pianos, harps, strings, and organs, all of which will work great for worship music.
JX-3P
This is a good synth, and works well on my System-8. And I find it especially suited for church use because, although (obviously) the synthesized instruments aren't going to sound perfectly organic, having such a wide array of them is useful for church. You never know when you're going to need chimes, accordion, violin, etc.
The KX-3P seems to have a few Piano-like patches. Their realism, to my ears, isn't as good as the System-8. But this would be a slightly unfair comparison because the System-8 has many complex FM waveforms, one of which is ideal for synthesizing a piano sound.
The JX-3P works and sounds great with the System-8! I have used the "ORGAN 2" patch quite a bit in church.
At first, one of the limitations of the JX-3P was that it initially only included 64 patches. Roland has remedied this, releasing 64 Synthwave patches for it. Now it has more selection.
Is the JX-3P useful in church? I think so. I like having an oboe patch and I like the organ patch. So far, of all the 3 Plug-Outs on the System-8, I use the JX-3P the least. I can say the JX-3P is less useful to me than the Jupiter-8 and Juno-106, so technically if I wanted to use a different Plug-Out on the System-8, the JX-3P would get deleted to make room. But I don't say that as a condemnation of the JX-3P. I think, to my ears, the Juno sounds smooth, the Jupiter sounds clean and professional, but the JX-3P sounds like 90s pop music. This is the only Plug-Out with an "oboe" patch, sure, but I would rather try to find or hire an Oboe player for church, if money and/or congregation membership permitted.
Besides, let's be honest: I have Roland Cloud, so I can use Concerto and the many other VSTs to give me a good natural sounding instrument, from strings to brass to woodwinds. If my goal was a natural sounding solo in church, I'd bring my keyboard and plug Roland Concerto in. But for what it's worth, again, it's nice to have such sounds readily available on my System-8.
The main problem I run into with the software VST is that I can't figure out how to keep that add-on box visible, for more in-depth patch modification.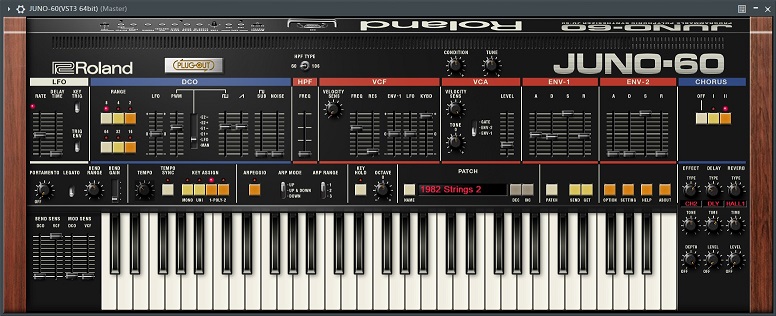 Juno-60
When this Plug-Out was released, I was pleasantly surprised! Some people were already claiming that Roland had abandoned their System-8. Life lesson: some people would spread fear, uncertainty, and doubt about companies no matter how many good things they do.
I already love the Juno-60! While my mind assumes I'm more of a Jupiter-8 person, due to its higher list of features, my ears love the beautiful simplicity of the Juno series, and the Juno-60 is no exception. I already fell in love with many of the patches it has.
So then the battle begins to see which, JX-3P or Juno-60, will occupy Plug-Out 3 on my System-8. I'll be honest, this is a tough battle. There are several patches on the JX-3P that are very useful, such as organs and PD EMOTIVE PAD (which is great for all kinds of songs that have a high, sparkly pad).
But the Juno-60 sounds less "synth pop" and more "Juno" (obviously). The "synth pop" flavor of the JX-3P always grated on me, though it comes with good patches. But the Juno, while not having that problem, almost has the "copycat" problem: if I have the Juno-106 (and especially now, the 128 original Juno-106 patches), why would I want "another Juno" on my System-8? Wouldn't variety be more useful in church?
It comes down to preference. Both the JX-3P and the Juno-60 have their advantages. The JX-3P, ironically, has more church-suitable patches, but the Juno-60's advantage is it doesn't sound like the JX-3P. So far, I've played with the Juno-60 in church, and it has more "girth," but the JX-3P still sits in Plug-Out #3 slot because it has several useful patches for church.
D-50
This is an iconic Linear Arithmetic synthesizer, per Wikipedia. Reading over its architecture, it's a cool concept, and one that definitely should (in theory) result in a more realistic synthesis of real instruments.
The first thing that struck me is its 512 patches! This is utterly ridiculous, and in theory this should mean I could find everything I want in this synthesizer's patches. If the stock 384 weren't enough, the other 128 are a set called "Beyond Fantasia." I'm thinking at this point, "Great! Let's get to work!"
Not so fast. First of all, these patches do not contain the typical Roland patch name prefixes, like "LD" = "Lead", etc. So mathematically analyzing them is not very accurate, unlike the other VSTs and synthesizers on this page. I resorted to using Excel to count patch descriptions that contain "harp", "string", etc. This wildcard search is going to lead to a few false positives. Instead of having cheat sheets of patch numbers just in case I need them (with the System-8 and its Plug-Outs), I'd absolutely need to keep a cheat sheet with the D-50.
(Note that one can buy the D-05 Roland Boutique, so there is a way to get the D-50 in physical form, rather than as a VST.)
Then I discovered that the patches are mostly named creatively rather than analytically, so there are many patches whose name defies mathematical or textual classification. One would have to go through all 512 of them and decide what category they fit into, if any.
Don't get me wrong: a quick Google search found many hits on what famous song uses what patch on the D-50. So I am not denigrating the synthesizer. It's got a ton of beautiful patches.
This D-50 works only as a VST, and cannot be Plugged-Out to the System-8. For $1,500 (at the time of writing) you already get a very capable System-8 plus a Juno-106, a Jupiter-8, a JX-3P, and access to several other iconic Roland Plug-Outs. With how expensive the old 80s synthesizers are that you can get used on the internet, the System-8 is an incredible bargain.
As a VST, a $20/month Roland Cloud subscription is a bargain. But I prefer hardware, so if I absolutely needed some D-50 patches as a professional musician, I'd have to buy the Boutique D-05 and connect a MIDI keyboard to it. But since I'm not rich, nor a touring musician, for now I will have to dream.
Church Instrument Patches
One of the things that is also helpful in a church environment is having instrument patches for random needs. You never know when you're going to need a flute patch, for example, if either the flutist is out sick, or you don't have one at your church.
Now to be fair, those patches on the System-8 aren't going to sound super realistic. For example, I played viola and string bass in college. I can spin through the string patches on my System-8 and its Plug-Outs and tell the strings aren't realistic. So I mainly judge patches by what they sound like on their own.
Synthesizers aren't going to sound perfectly like the instrument they're intending to copy, but often they can be helpful when you are missing things you want to have. So what instrument-like patches do the System-8, the System-8 Plug-Outs, and other Roland VSTs have? This chart should tell you which one includes what patches, not by patch type code, but by description. So unlike the first chart, which was mathematical, this one will be based on description. Note that brass-type patches qualify as horns here. Also note that I am not including the D-50: this chart is for System-8 users.

| | | | | | | | | | | | | |
| --- | --- | --- | --- | --- | --- | --- | --- | --- | --- | --- | --- | --- |
| SYSTEM | Trumpet | Cello | Marimba | Clavichord | Bells | Clarinet | Oboe | Bassoon | Flute | Piccolo | Harp | Accordion |
| System-8 | | | | X | X | | | | X | | X | |
| Juno-106 | X | | | X | X | | | | | | | |
| Jupiter-8 | | X | | X | X | | | | X | | X | |
| JX-3P | | | | X | | | X | | X | | | X |
Note that the D-50 has a very large amount of real instruments it can synthesize, so if I had the money, maybe a Roland Boutique D-05 would be a good investment. But as I already have Roland Cloud, I can even use sample-based VSTs, so I already have plenty of ways to simulate real instruments.